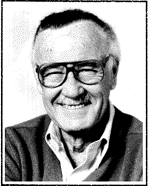 Stan Lee, Chairman of Marvel Films and Marvel comics and writer/creator of countless superheroes.


Stand Lee Interveiw


Recently I had heard of an interveiw going on that featured Stan-Lee, so being the guy that I am decided to watch the interview at spiderman.sonypicture.com. So I watched it and learned some stuff about spider man that I didnt really know. So after watching the videos I decided to write a summary of the interview for you. So enjoy .. and here it is: The first quesiton that was asked was when did Spider-Man first come out and why. Stan Lee replied by saying (and I dont remember exactly) that Spider-Man came out some time after The Hulk, and the reason why they came up with Spider-Man was because of the fact that they were doing good with the hulk and decided to try to make another series. The next question that was asked was how did he come up with the Idea for Spider-Man, and Stan Lee replied by saying: The Idea of Spider-Man came when he was trying to figure out a new set of powers for the new super hero and since most of them can fly and such already he decided it would be nice if a super hero could have powers like an insect. Then after the super hero came the name and thou he thought of many names nothing sounded more serious than Spider-Man so then Spider-Man was born! Stan Lee tried to create as much as normal human being as possible. facing everyday problems that were as stunning and mind blowing at he would face in his suit. Problems such as, girls, homework, school, getting a job, and all sorts of things that everyone would deal with. As Stan Lee puts it "I think teenagers saw this and said Hey! That could be me." And over the years people still love Spider-man.

-By Ben R.
Spider-Man continues to Thrill viewers!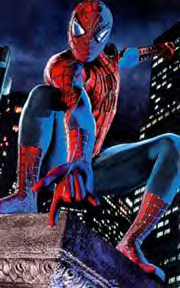 Photo taken by Peter Parker
Spiderman has completely taken over the theaters across not only America, but all around the world! It ranks as the most seen movie of the year and possiable in the last decade! It's opening weekend alone was worth over 72 million dollars. The highest ever made in the first three days! Even Star Wars was ranked out and thrown out the window by this web-slinging Hero. In the next weeks Spiderman made over 114 million- dollars! It's still open and flowing in the money because viewers keep going back and back again to see the movie. Even though 'Star Wars Ep:2' still didn't top the web-slinging Hero which surprised almost everyone. "I can safely say that even after it stops playing in theaters, Spiderman will be hard to stop after it ranks in over 300 million world wide." says a local SpiderMan and Star wars fan. "I think it will stay ontop of all the records until Ep:3 of Star Wars comes out because no one can wait for that one to come out in theaters." Even though it's well in it's weeks Spiderman is still in the top ten at the block busters. Which is a surprise. Now, even book, action figures, posters and even web shooters are being sold out in all the stores form this movie. My guess is that Spiderman will be around in theaters for a very long time.-Kristin of the Daily Bugle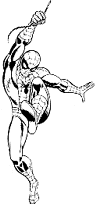 Trival Stories
Ever get tried of not being able to find your favorite comic of spiderman? Ever wonder if you will ever get enough money to buy some of the comics? Well, wonder no more! Marvel has now come out with FREE online comics! It features the spiderman comics of 'The Ultimate Spider-Man', 'The Amazing Spider-man' and the issue of 'Tangled Webs'. You can read each of these comics for Free online. It's all brought to you by www.marvel.com so you can enjoy the comics even if you can't afford to go out and buy them, or just plain can't find them. It also has information on the Superhero card game, and other marvel superheros.-Kristin

For all the Spiderman fans out there, there is a sweepstakes going on right now. This one you can meet Stan Lee himself along with a freind. It's at www.sonypictures.com/ cthe/stanlee/sweepstakes.html. You may enter your name once a day, but if you are caught entering your name more then once, you will be thrown out of the contest. Be sure to try your luck at getting a chance to meet a legend!-Kristin

This Weekly Poll
Who do you relate to more, Peter Parker or Spider-man?
Peter Parker-56%
SpiderMan-44%